Burning Feet
The Burning Feet Company was created in 2019 around a first project, Ceci est une Rencontre. Under the impulse of Marthe Krummenacher, Artistic Director, and co-produced by the Association for Contemporary Dance (ADC, Geneva), this first creation concretized the artistic, aesthetic and ethical proposals that still guide its work today: sometimes eclectic encounters between artists coming from different universes (contemporary dance, music, contemporary art), the meticulous search for a space of improvisation in which an artistic encounter becomes possible, the exploration and the questioning of what makes our link to the other, of what animates it or prevents it, in the world as we perceive it.
These concerns are reflected both in Marthe Krummenacher's creative method, which excels in establishing a highly participatory climate in which each person can give the best of his or her art, and in the proposal that each show addresses to its audience. It is a place of Erlebnis, of existential experience, which is offered to the spectator by this art that both touches and asks questions, an art that has the delicacy to stop, always, before imposing an answer.
Past
LE CHANTIER
Marthe Krummenacher places improvisation and the freedom to create with others at the heart of her approach. "As long as there are people, there is inspiration" would be her motto. Marthe Krummenacher is an exceptional dancer and a great improviser. She was awarded the Swiss Dance Prize in 2017. She has danced for renowned choreographers such as William Forsythe, who has brought together authors, thinkers and philosophers and who likes to put the dancer at the service of thought. For the dancer who most often aspires to create in a collaborative mode, it is important to place everyone on an equal footing. Perhaps because her career has led her to evolve in a hierarchical world where horizontal relationships were not the order of the day, Marthe Krummenacher now wishes to offer other alternatives to the dancers. It is a question of experimenting, through the medium of improvisation, the most interesting in her eyes, without hierarchy, nor quest for virtuosity, where each one brings his stone to the building.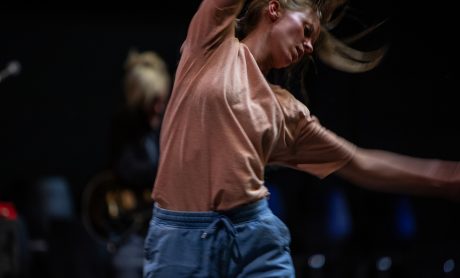 The dancers
All the dancers invited by Marthe Krummenacher have a strong link with Geneva, which is particularly rich in choreography. Some of them studied together at the Ballet Junior, others have settled abroad. "It's an ecology, we needed people from here to make the Geneva fabric work", underlines Marthe Krummenacher. The initiator of the project has brought together performers of different generations, all familiar with group work. The collective also includes three young artists met at La Manufacture: Alexia Casciaro, Audrey Dionis and Pierre Piton. As for Anja Schmidt, Sarah Ludi and Fabrice Mazliah, they have had an international career for some thirty years and have worked all over Europe; they also have a great mastery of improvisation. Marthe Krummenacher, Raphaële Teicher, Ioannis Mandafounis and Pierre Pontvianne belong to an intermediate generation that has been dancing on stages for twenty years. Beyond their strong personalities and their talent, all the dancers already knew at least one or even two members of the team. These connections remain essential to feel good together and to be stimulated by the desire to get together. 
The musicians
Approached by Marthe Krummenacher, Cyril Yeterian, founder of the Geneva-based label Bongo Joe, chose a range of local musicians to confront the dancers, a practice already tried and tested by some, new for others. He has surrounded himself with six rare poly-instrumentalists, knowing how to surprise and renew themselves permanently, capable of reinventing each evening a proposal in the present of a new meeting with the dancers: drummer, guitarist and singer Simone Aubert and bassist Vincent Bertholet of Hyperculte; percussionist Cyril Bondi; musician Guillaume Lagger, on harmonica or keyboard; cellist Naomi Mabanda, who plays with her musical loops; sound artist Julie Semoroz, as well as bassist Louis Schild. The musicians do not start from written scores, just as Marthe Krummenacher does not rely on dance styles to start improvisations. Each performance is a real challenge. An experience that stimulates the creativity of the musicians, cultivating here their great art of "musical resourcefulness".
texts – Cécile Dalla Torre
images – Nick Krummenacher 
DISTRIBUTION 
Stage direction 
Marthe Krummenacher
Production 
Burning Feet Company
Co-production 
ADC – association for contemporary dance
With the support of 
Loterie Romande
SIS Foundation
Creation 
Pavillon ADC – Association Danse Contemporaine, Geneva
June 9th 2021
Conception and coordination dance 
Marthe Krummenacher
Musical coordination 
Cyril Yeterian
Technical sound 
David Chesnel
Dance 
Alexia Casciaro, Audrey Dionis, Marthe Krummenacher, Paul Girard, Fabrice Mazliah, Pierre Piton, Pierre Pontvianne 
Music 
Vincent Bertholet, Cyril Bondi, Guillaume Lagger, Naomi Mabanda, Louis Schild, Julie Semoroz, Cyril Yeterian, Simone Aubert 
Production, distribution and administration 
Ars Longa, Mathias Ecoeur & Anna Ladeira
Photography 
Nick Krummenacher
Opus Air Box
Opus Air Box proposes an intellectual and emotional experience by questioning our daily experience of a world in which information and audiovisual media are omnipresent. In this incessant hubbub that is the backdrop of our lives, what space and what temporality are those of the encounter between two people?
62 radio sets are suspended, placed on the stage, hidden under seats, in order to immerse spectators and artists. These radios randomly broadcast sound extracts: political speeches, advertisements, interviews with famous artists, cult lines, children's voices, crowd cries, birdsong, musical extracts. All the noise of the world is invited in the room, leaving, from time to time, a silence, a moment of respite.
It is in this context that encounters take place, not without clashes – encounters between the audience and the artists, between Marthe Krummenacher's dance and Chloé Bieri's singing, between the body and the voice. Do they always happen? What impact do they have on the noise of the world – or its perception? Opus Air Box invites its audience… and its artists to this adventure.
DISTRIBUTION 
Choreography 
Marthe Krummenacher
Production 
Burning Feet Company
Co-production 
La Bâtie-Festival de Genève
With the support of 
City of Geneva
Loterie Romande
SIG Foundation
Creation 
Théâtre Pitoëff, Geneva
August 30th, 2020
Conception and movement 
Marthe Krummenacher
Conception and voice 
Chloé Bieri
Sound programming 
Daniel Zea
Creation and lighting management 
Alessandra Domingues
Outside Eye 
Raphaële Teicher
Production, diffusion and administration 
Anna Ladeira and Mathias Ecoeur – Le Voisin
Production 
Burning Feet Company
Coproduction 
Coproduction La Bâtie-Festival de Genève
Support
City of Geneva, Loterie Romande, Fondation SIG
Ceci est une Rencontre
Ceci est une Rencontre is initially a format developed and experimented by Marthe Krummenacher between 2011 and 2018: it consisted in improvising in duo with a musician with whom she had never collaborated before. In 2019, the ADC (Geneva) hosted a collective performance over several days, with the ambition to create a show between music and dance in front of an audience. No less than 10 dancers and 7 musicians worked on the ADC stage, bringing together high-flying artists for five unique performances. 
DISTRIBUTION 
Choreography 
Marthe Krummenacher
Production 
Burning Feet Company
Co-production 
ADC – association for contemporary dance – Geneva
With the support of 
Loterie Romande
Hans Wilsdorf Foundation
Nestlé Foundation for the Arts
Swiss Foundation for Performing Artists SIS
Creation 
Pavillon ADC – Association Danse Contemporaine, Geneva
June 4th, 2019
Conceived and directed by 
Marthe Krummenacher
Artistic collaboration and dance 
Pierre Pontvianne
Musical coordination 
Cyril Yeterian
Dance 
Ioannis Mandafounis
Fabrice Mazliah, Anja Schmidt, Sarah Ludi,
Raphaële Teicher
Audrey Dionis
Alexia Casciaro
Music 
Julie Semoroz
Simone Aubert
Vincent Bertholet
Guillaume Lagger
Cyril Yeterian
Naomi Mabanda
Cyril Bondi
Sound engineer 
David Chesnel
Administration and diffusion 
Anna Ladeira