Inkörper Company
Born in 1986, Aurélien Dougé trained in dance at the Conservatoire National Supérieur de Musique et de Danse de Lyon. Between 2007 and 2014, he was a performer for Dantzaz Compania/Ballet de Biarritz (Spain/France), the Leipzig Opera (Germany), the Norrdans Company (Sweden) and the Ballet du Grand Théâtre de Genève (Switzerland). He is currently pursuing his career as a dancer and performer with the choreographer Cindy Van Acker and the director Roméo Castellucci. In 2014, Aurélien Dougé founded in Geneva, Switzerland, Inkörper Company, a production structure that allows him to conduct his research. Since 2018 and Mouvement d'ensemble, he has been developing an experimental work that lies between installation, immersive device and performance. In his practice of simple materials, even raw (paper, earth, ice …) or still immaterial, such as light, sound or artificial fog, he collaborates with artists, craftsmen, technicians, thinkers from different backgrounds. Aurélien Dougé's creations, all declined in their forms and their durations, according to the places and the conditions of presentation, were recently presented in Switzerland (Halle Nord – Contemporary Art Space of Geneva; Association for the Contemporary Dance; Festival Antigel; MEG – Museum of Ethnography of Geneva. In France (Maison des arts – contemporary art center of Malakoff). In Italy (Altofest festival – Naples; Matera 2019 – European Capital of Culture). Between 2020 and 2022 Aurélien Dougé is resident at the CN D – Pantin, at the Centquatre-Paris, at the Subs- Lyon, at the Pavillon de la Danse – ADC of Geneva for the creation of Tous en ce monde sur la crête d'un enfer à contempler les fleurs (2022).
With Aurélien Dougé we worked in the production of the projects SPHERES and Tool#x.
Past
SPHERES
SPHERES – Participative artistic creation mixing painting and choreography. Creation 2016 – Commissioned by the Antigel Festival – Geneva. To participate in the common effort to build relationships in the new district of La Chapelle in Grand-Lancy, the Antigel festival 2016 associates with the Galerie de la ferme de la Chapelle and gives carte Blanche to Aurélien Dougé, choreographer and artistic director of Inkörper Company and Gianlugi Maria Masucci, painter. Together they invent Spheres. At the crossroads of the device and the performance, Spheres will put in scene inhabitants of the district and professional dancers to question the bonds which unite us and support the unity.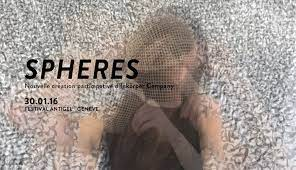 Conception and choreography Aurélien Dougé Performers Daniela Zaghini, Paul Girard, Fernanda Barbosa and the inhabitants of the Chapelle – Lancy district Music in progress Masks Gloria Del Castillo Projection and video Gianlugi Maria Masucci Production Festival Antigel, Galerie la Ferme de la Chapelle Partners Art sans RDV, Atelier à l'Ouest, la ville de Lancy. 
Tool#x
Tool#x, a choreographic installation for store windows and unusual places. A creation on the semantic and visual ambiguity of the mannequin which received a prize from the Fondation de France for its specificity to favour the meeting, the exchange and the sharing with all kinds of spectators. This project was presented at the Antigel festival in Geneva and at the Nuit Blanche Paris 2015. 
At the border of visual arts and dance, Tool#x, a choreographic installation for store windows and unusual places, is an invitation to contemplation. Conceived around the semantic and visual ambiguity of the mannequin, the project exposes three anonymous bodies, three phantasmatic objects on a base. In an extreme slowness, they weave a series of gestures and postures from the female advertising body iconography. Constrained by the dimensions of the space, testing their flexibility, they pile up, melt and gradually metamorphose. The evolution of the musical vibration reinforces the feeling of disorder. Under the influence of a simulacrum, things like space slip away in the smoke and only the consciousness of our own body remains to pursue the dialogue on our transformation and the possibilities of tomorrow's body.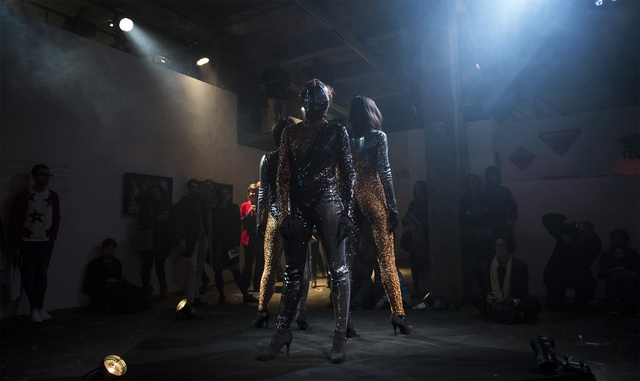 TOOL#X / Conception and Choreography Aurélien Dougé Performers Yu Otagaki, Francesca Mattavelli or Agalie Vadamme, Elsa Couvreur or Daniela Zaghini Scenography Perrine Cado and Aurélien Dougé Costumes Caroline Bault Musical Creation Julien Tarride Duration 18 min Creation November 2014 – Geneva Production Inkörper Company Administration Anna Ladeira Production Partners City of Geneva, Fondation Emilie Gourd, Fondation de France, Loterie romande, Fondation Ernst Göhner, Fluxlaboratory, Studio des bains.