17 February 2022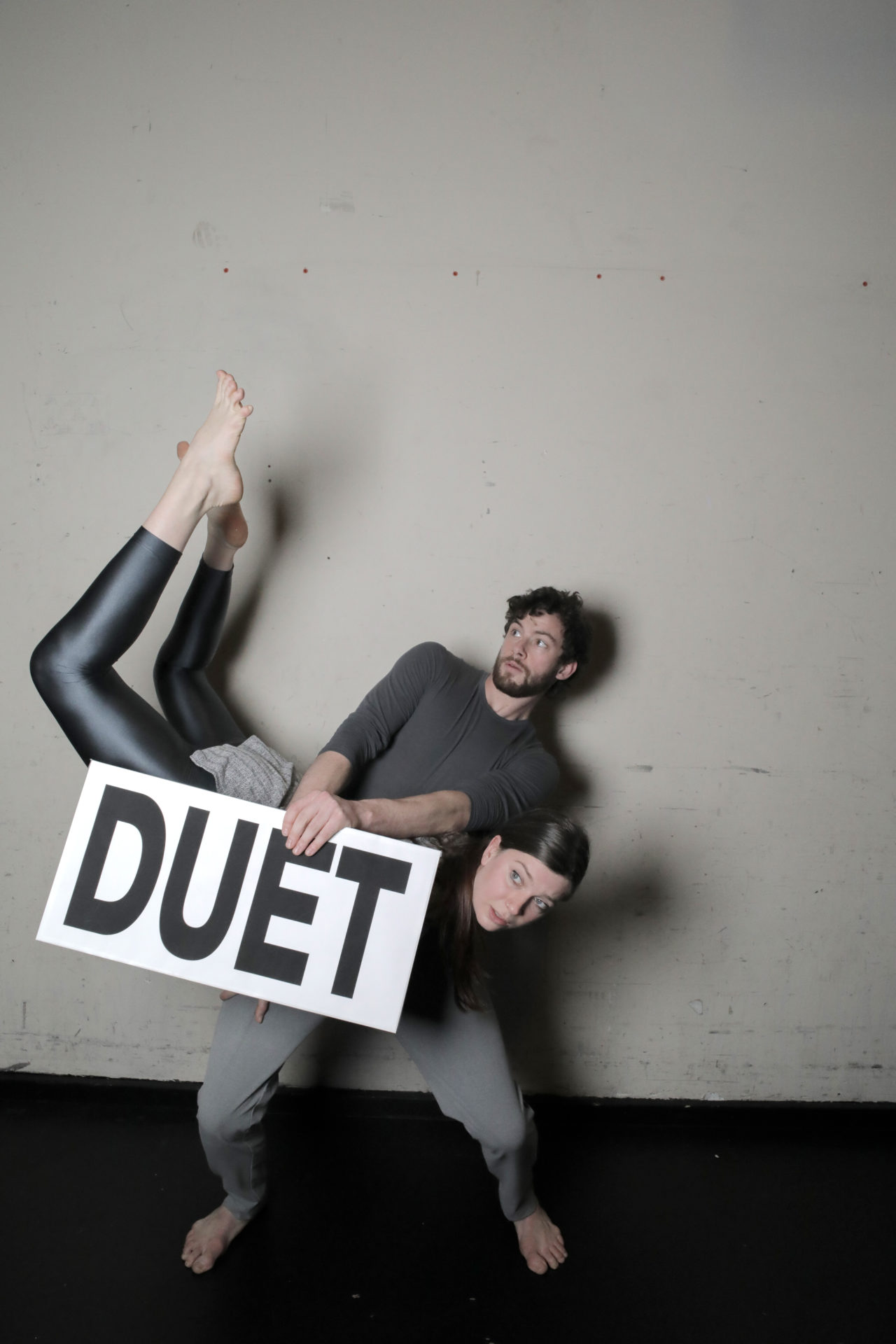 Part 1 of the "Faking It" Trilogy
"How to Do Things with Words" is a pas de deux between bodies and graphic text, between language and movement. How does one dance with text? What new meanings arise when dancers manipulate objects printed with words and phrases?
The results range from the literal to the poetic, from the meaningful to the absurd. Printed signs may be flat, but they add a surprising depth to a dance performance. Lush physicality and a detailed movement language color a black and white landscape of printed text fragments. Playing hide-and-go-seek amongst clouds of interpretive complexity, the dancers invite the audience to participate actively in the search for meaning.
Our production is conceived as a series of "choreo-liguistic" experiment in an unusual working method blending live rehearsals with video dance creation. For the first iteration or this project, we are planning a series of video studies that will be presented on various online platforms in January 2022. These etudes form the basis for a second production stage: a full-length dance production on the stage of the Dampfzentrale Bern in February 2022. For the third stage, a street theater version is planned for the summer of 2022.
"How to Do Things with Words" is the first part of the "Faking It" trilogy, in which the Joshua Monten Dance Company explores their favorite kinds of fakery and falseness. Martha Graham never tired of claiming that "the body never lies." We beg to differ! Our bodies are adept instruments of deception. The very act of performing is inextricably implicated with telling lies — and we wouldn't have it any other way.
The "Faking It" trilogy has been supported by a multi-year production grant from the City of Bern for the years 2022-2024.
CHOREOGRAPHY _ Joshua Monten
DANCE _ Angela Dematte, Katharina Ludwig, Jack Wignall 
DRAMATURGY _ Guy Cools
VIDEO _ Manuel Justo, Alessandro Schiattarella, Matilde Martins
PROPS/GRAPHIC DESIGN _ Franziska Lüthi
COSTUME DESIGN _ Catherine Voeffray
LIGHTING DESIGN _ Mirjam Berger
MUSIC CONSULTANT _ Moritz Alfonz
APPRENTICE _ Gian Luca Lazzarini
PRODUCED BY _ Verein Tough Love
COPRODUCTION _ Dampfzentrale Bern, Centre de Création Helvétique des Arts de la Rue (CCHAR)