Cie ChamploO
The ChamploO company (association On the Good Foot) was founded in 2019 in Biel. Branca Scheidegger and Rafael Smadja are the joint artistic directors. They met at the Break Through festival in Zurich in 2015. Their encounter on stage is atypical. The technique and aesthetics pursued by these two dancers are quite different and yet it is this heterogeneity that will create the encounter.
Staging the encounter requires a particular sound universe and to do this they call on a particular musician.
Dion Sumi uses only his mouth and vocal cords to create and suggest everyday and abstract sounds.
Between dance, acting and vocal music, the three protagonists bring practices and genres together. The practices follow each other, intermingle, agree, overlap, harmonise or contradict each other. This triangular communication is reinvented in the service of an imaginary and poetic atmosphere.
In parallel to its choreographic work, the company is involved in cultural mediation and the organisation of dance events for the city of Biel and on the Swiss territory (STYLIZE in Zurich / BOUNCE in Bern / PROJECT X in Biel / JAZZ adult dance in Biel).
Past
Je viens de Partir
All terrain trio for 2 dancers, 1 vocal musician, 1 long bench and 1 speaker. 30 minutes (if the bench works!) 
Inspired by a sketch of the famous Swiss humorist Massimo Rocchi, this title evokes a recent past, a spatial and temporal counter-current, a turbulent contradiction. The piece highlights these tiny moments that separate the past from the present and the present from the future, through the improbable meeting of two dancers, a vocal musician, a speaker and a bench. 
In an environment that oscillates between chaos and harmony, the protagonists seek each other, cross each other, miss each other, meet each other, escape. Between the inaudible, the invisible, the missed and the discomfort, moments of listening and perfect synchronization occur.
Between absurdity and realism, this show approaches its audience outside the usual black box. The piece is created for public spaces, schools, parks, museums.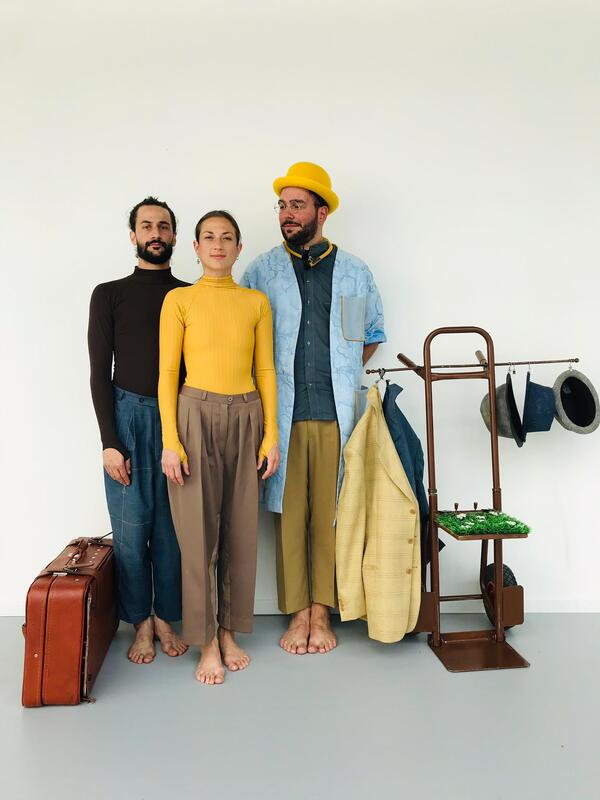 Co-conception, choreography and interpretation | Branca Scheidegger, Rafael Smadja 
Vocal music and arrangements | Dion Sumi 
Costumes | Mélie Gauthier 
Director | Marjolaine Minot 
External viewpoint | Stéphane Fortin 
Administration & Executive production and diffusion | Mathias Ecoeur & Anna Ladeira – Ars Longa 
Coproduction | forum culture 
Residencies | studios Dyptik, Capsule Academy, Théâtre Bascule 
Support | Bernese Jura Council, City of Biel, Canton of Berne, Ernst Göhner Foundation, Corodis, Corymbo Foundation, Capsule Academy – X-Project, Manufacture d'Aurillac 
Photography | Marjolaine Minot 
Nalc
In NALC, six performers mingle, agree, overlap, contradict and harmonise…
Together they pay homage to that not so distant utopia that it is possible.
Just possible. This is not a French mistake.
The choreographer lets the word possible fit an infinite list of plausible sequences for my clan.
The clan sets this metaphor of "a thousand possibilities" in motion and plays with the choreographic codes.
Powerful constraints let us witness the birth of its creativity and spontaneity.
Violent, hypnotic, gentle…the behaviours vary to the rhythm of the relationships that are continually being formed and unformed.
Through his music, Yvan Talbot controls a set in constant mutation.
The dancers inhabit it fully, pass through it, undergo it or distort it.
Choreography – Rafael Smadja assisted by Amaury Réot
Musical composition and interpretation – Yvan Talbot
Performers – Branca Scheidegger, Cédric Gagneur, Yonas Perou, Ernesto Marquez, Giulia Esposito, Rafael Smadja
Lighting – Alizé Barnoud & Rafael Smadja
Costumes – Mélie Gauthier & Lisa Paris
Photographs – Yuri Tavares and Martin Reeve
Administration and diffusion – Mathias Ecoeur & Anna Ladeira
Venues – Dansometre, Théâtre L'Oriental – Vevey and Nebia – Bienne
Production – Association On the Good Foot – Cie champloO
Delegated production – Cie Tenseï
Co-production – forum culture
Support – Canton of Bern, City of Biel, Breakthrough Zurich Festival
NALC was born thanks to Olivia Marinoni's commission for the Zurich BreakThrough Festival. The first stage of the work will be presented at the 2019 edition. The second stage of work was presented in January 2021 thanks to the precious support of the festival Les Chorégraphiques led by Jasmine Morand and her team. In October 2021, NALC will be presented at Nebia. 
Past performances: 
January 13, 2021, Festival les Chorégraphiques – Vevey (CH)