Cie des Marmots / Collectif Ouinch Ouinch
The Compagnie des Marmots was founded in 2019 in Geneva. Its artistic director is Marius Barthaux, a young choreographer and dancer trained at the Manufacture-HES-SO, and associate artist of L'Abri (2018-2019), a venue dedicated to young creation (Geneva).
The Company works closely with the OUINCH OUINCH Collective, a quartet originally formed by Marius Barthaux, Karine Dahouindji, Simon Crettol and Nicolas Fernando Mayorga Ramirez, then students at the Manufacture-HES-SO (2015-2018 Bachelor's degree in dance). During these three years, their friendship and their complicity in dance encouraged them to create together.
This is how a first collective piece was born, both transdisciplinary and experimental, Mon Luga. The creation of two other pieces followed: Molecutrio, presented at the Quarts d'heure de Sévelin 2018, selected for the Tanzfaktor 2020 tour, and Happy Hype, an immersive piece performed during the Fête de la danse 2019 and selected for the Swiss Dance Days 2020 and has since toured in various festivals in Switzerland, France and Germany.
L'espace du club, de la boîte de nuit, concatène ainsi les dimensions du rite et de la fête.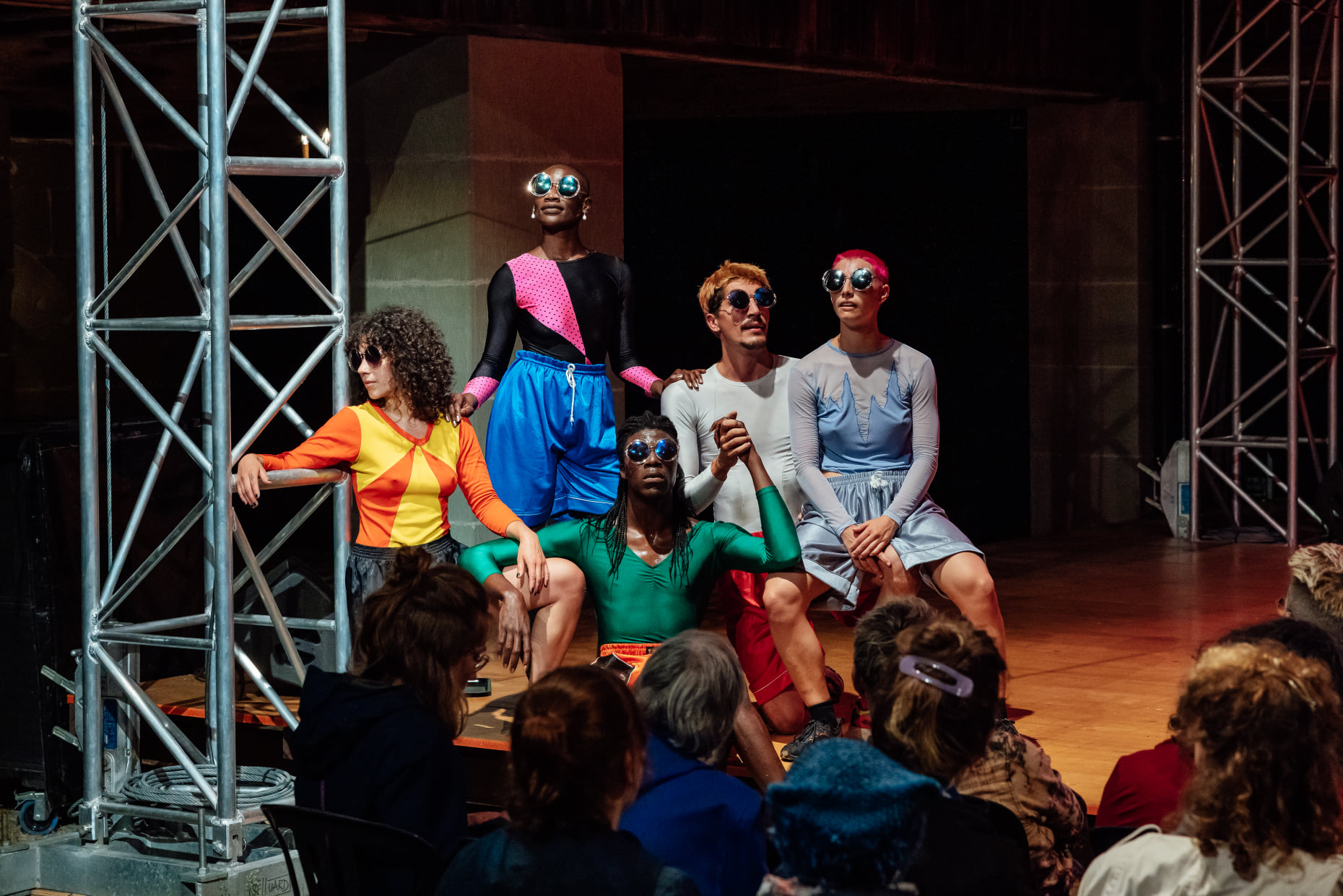 Click here to check out the company's website.
Now
Happy Hype
HAPPY HYPE is an immersive piece that is about the joy and encouragement of dancing. For everyone.
Inspired by a practice from the Krump culture, features 5 dancers and a DJ who invent a utopian dance, universal but temporally situated by the music that accompanies it.
DJ Mulah plays music from Afro and Hip-Hop cultures and the dancers form a circle in front of her to dance. They are inspired by traditional European dances, mixed with more contemporary club dances: trap, voguing, duty wine and others.
The space of the club, of the nightclub, thus concatenates the dimensions of rite and party.
Concept, choregraphy_Marius Barthaux, Karine Dahouindji, Simon Crettol, Mulah, Nicolas Fernando Mayorga Ramirez
Performance_Marius Barthaux, Karine Dahouindji, Elie Autin, Adél Juhász, Collin Cabanis
Musique live_Maud Hala Chami aka Mulah
Production_Association Cie des Marmots, Le Voisin
Partnership_L'Abri-Genève, Le FAR Nyon
Executive Production, diffusion_Association Ars Longa, Anna Ladeira, Mathias Ecoeur
Happy Hype is a production of Belluard Bollwerk réalisée grâce à un Encouragement du Canton de Fribourg à la Culture.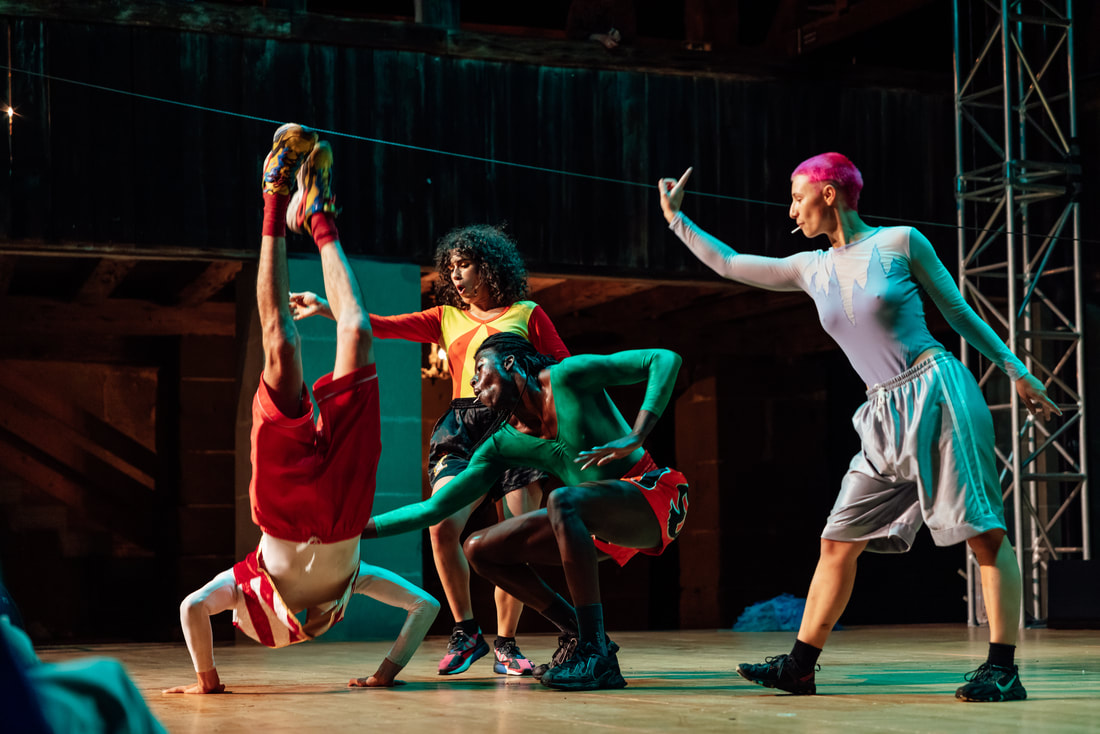 Cachalotte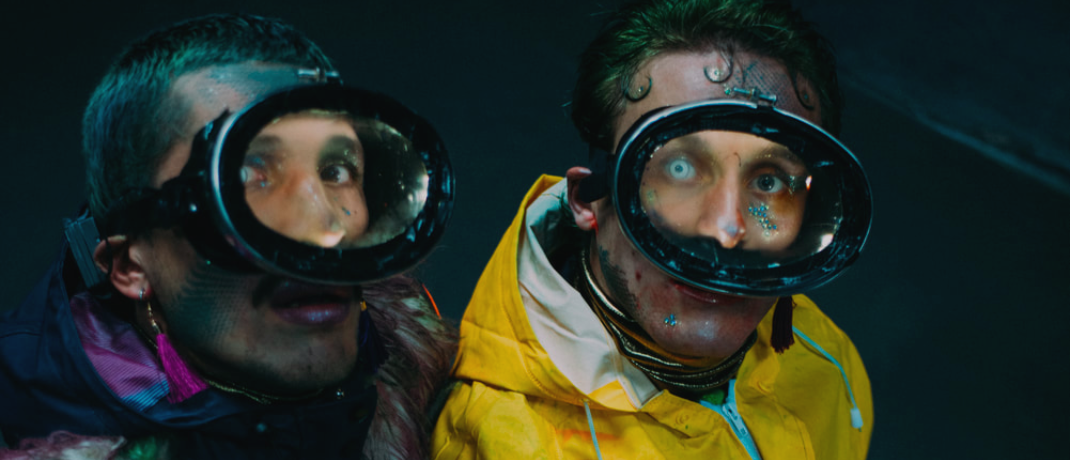 CACHALOTTE is a choreographic, choral and theatrical journey along an expanse of water – whatever it is – resembling a wacky initiatory quest. Under the guise of half-fisherman half-fisher guides, we invite people to experience with us a maritime epic on hard ground. With CACHALOTTE, we continue to dream about the thousand and one joyful ways of making the theatrical event a act to gather. In line with our previous piece 'HAPPY HYPE', we are continuing our research here on encouragement as a principle of vital mutual aid within a society. This time, we are working to make the public an integral part of the show, and to give it a concrete power of encouragement by asking ourselves this question in particular: how to create a form that is at the same time immersive, truly inclusive and spectacular? How to combine a sensitive approach to the public with an extravagant and increased presence specific to our ouinch?
Our fictitious setting here takes on the appearance of a Whales Watching excursion, an ecotourism activity that consists of observing whales and other cetaceans in their natural environment. Embodying zany and restless guides, we invite viewers to follow us on a poetic and grotesque odyssey in search of the Legendary Great Sperm Whale. Together and by physically involving the public in this quest, by walking, singing and dancing, we leave, a noisy and joyful parade, in his footsteps. On our way, we meet a strange luminous wreck, future lightship with which we then try to sail on dry land.
PERFORMANCE: Marius Barthaux, Karine Dahouindji, Simon Peretti, Victor Poltier
COSTUMES : Marie Romanens
MUSIQUE : live
SCENOGRAPHIE : Benoît Renaudin
LUMIERES : Julien Brun
PRODUCTION EXECUTIVE : Anna Ladeira – Le Voisin
CO-PRODUCTION : Association Cie des Marmots, Le Voisin
SOUTIENS : L'Abri-Genève, Emergentia – temps fort chorégraphes émergents, Ville de Genève, SSA, SIS, Loterie Romande