Cie Superprod
Céline Nidegger and Bastien Semenzato are both performers in different theaters and for various companies in French-speaking Switzerland. In 2009, in a desire to question their profession and their relationship to society, they founded the company Superprod. Together they propose projects that combine playfulness and DIY with political and poetic content. 
Past
Après le Déluge
A collective creation of the companies Le Désordre Des Choses and Superprod 
By and with Guillaume Cayet, Aurélia Lüscher, Céline Nidegger and Bastien Semenzato
"Après Le Déluge" is a show written with four bodies and four voices about democracy and the citizen gesture.
Strengthened by our different experiences and the talent of the young author Guillaume Cayet, we went on a residency in June 2016 in the Maisons Mainou for a month of writing.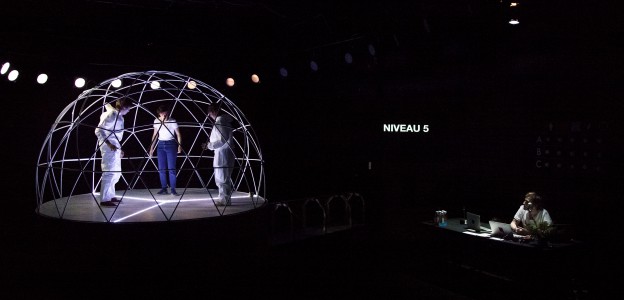 We then dreamed, imagined and elaborated our project.
We wanted to create a show in which the vote would be central. So we imagined a transformable story, a fable with three characters -A, B & C-, which would deviate according to the public's votes. A bit like the books of our childhood: "The books you are the hero". 
A sprawling project, since each decision taken by the public vote led to a constellation of possibilities. But it was essential for us to go through it to treat this subject so important in these troubled times: the citizen gesture and its consequences. 
Show created at the TU – Théâtre de l'Usine on May 11, 2017 
DISTRIBUTION 
Collective writing: Guillaume Cayet, Aurélia Lüscher, Céline Nidegger, Bastien Semenzato
Set design : Vanessa Vicente
Sound : Andrès Garcia
Lighting : Florian Leduc
Administration: Anna Ladeira
Support: City of Geneva, Loterie Romande, Fondation Wilsdorf, SSA Société Suisse des Auteurs, Maisons Mainou
Production : Cie Superprod
Co-production : TU Théâtre de l'Usine, Geneva 
With the support of the Fonds d'encouragement à l'emploi des intermittents genevois (FEEIG) 
Maladie de la famille M.
"La Maladie de la famille M." by Fausto Paravidino
A project of the Superprod Company, Jeanne Föhn Company and Angledange Company
The M. family is composed of Luigi the father, Marta and Maria the two daughters and Gianni the younger son. They live on the outskirts of a small town. Luigi has lost his wife and his memory is deteriorating. Gianni doesn't know what to do with his ten fingers and Maria wonders if her Fulvio really loves her or if he prefers his best friend Fabrizio. From love misunderstandings to tragicomic mishaps, this little world evolves under the watchful eye of a doctor who watches over the physical and psychological health of each one. He paints a general picture, full of tenderness, disillusionment and humor, of what he calls "Maladee de la famille M".
A story that takes place in a small town in Italy, a small town like in the Wild West, developed on the side of the road. 
A family story that sheds light on a small world that is losing its bearings and values. The mysterious causes of the mother's disappearance, two sisters called Marta and Maria not by chance, lovers divided unequally, a crumbling father who divides to better rule, a younger brother who looks at life as a game and who will leave the scene in a dramatic and sudden way, and a doctor who witnesses this world where everyone interacts but remains in isolation. 
On stage 
Ludovic Chazaud, Pierre-Antoine Dubey, Céline Nidegger, Aline Papin, Bastien Semenzato, Claude Thébert 
Off set 
Andrea Novicov, Nicolas Béguin, François Beraud, Laurent Junod, Andrès Garcia, Trina Lobo, Marine Magnin, Anna Ladeira, Serge Perret 
production – Cie Superprod / coproduction – Theater de l'Orangerie Geneva / with the support of – City of Geneva, Department of Culture – Republic and Canton of Geneva, Department of Public Education – Corodis – Pro-Helvetia – Ernst Göhner Stiftung – fund for the encouragement of employment of intermittent workers in Geneva
Théâtre de l'Orangerie, Geneva – From July 14 to 25, 2015 
Théâtre de l'Arsenic, Lausanne – From November 3 to 6, 2015 
Théâtre des Halles, Sierre – March 23, 2016 
French shows – Théâtre Palace, Bienne – April 28, 2016 
Théâtre Benno Besson, Yverdon – May 3, 2016
"Maladie de la famille M." by Fausto Paravidino, translation by Caroline Michel. L'Arche is the publisher and theatrical agent of the represented text. www.arche-editeur.com 
Library of unfinished or merely evoked projects
The Library of Unfinished or Merely Evoked Projects is a collection of unrealized projects. This collection takes the form of filmed interviews, followed by something slightly more absurd: an excerpt from the unfinished or merely evoked project.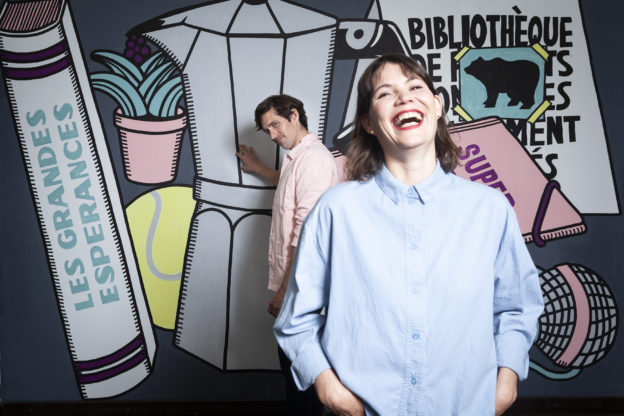 Le site internet
The website www.bibliothequedesprojets.ch on which you can view all the interviews, as well as the recordings of the interviews performed live. Our collection is enriched during a residency or a partnership with a place, we propose to the local artists and/or in connection with this place to participate in the Library. 
The library 
We imagined and built high chairs halfway between the tennis referee's chair and the beach lifeguard's chair. They are equipped with shelves and headphones to view the library's collection. On the shelves of the high chairs are texts, images and objects that evoke one or another of the projects collected. The chairs can be set up and moved to different spaces and invite the public to look at the project. 
The public meetings (live interviews) 
During our year of residency at the Théâtre du Grütli, the public was invited once a month to an appointment with the Library. Most of the time we proposed live interviews. The interview is followed by what we call an "extract". The "excerpt" part gives rise to a slightly absurd and intriguing spectacular form. The live entries are a kind of playful "contradiction", since the public attends the result of a project that precisely did not lead to a result. We also propose readings or performances inspired by the projects presented in the Library.
Conception, staging and acting: Céline Nidegger & Bastien Semenzato  
Administration : Anna Ladeira 
Coproduction: Cie SuperProd, Le Grütli – Centre de production et de diffusion des Arts vivants 
Support : Loterie romande, Fondation privée genevoise 

Photos: Cie SuperProd, Delphine Luchetta, Dorothée Thébert-Filliger