Eternal
Cie Eternal was created in 2019, and its artistic direction entrusted to composer and performer Soraya Lutangu, better known as Bonaventure. 
Now
Taking Care of Gods
In July 2019, Swiss-Congolese music composer and performer Soraya Lutangu Bonaventure moved to Kampala, Uganda, to create a project that fuses electronic music with gospel. She worked in collaboration with the Kingdom Gospel Club, an a capella group of Congolese refugees in Uganda. Together, they initiated Taking Care of God, a collaboration that explores the perception of spirituality in the world, the search for trance through rhythms and the need for inter-cultural exchange.
Taking Care of God is a hybrid performance, a journey towards connection through celebration and collective empowerment. It aims to explore the intersections that exist between the church and club worlds, and their use of music and dance.
Taking Care of God is a collective gesture affirming the beauty found in unity and cooperation, while exploring the individual trajectories of the performers. The project challenges the practice, meaning and dissemination of worship hymns by merging them with the rhythms and codes of progressive and contemporary club music. 
DISTRIBUTION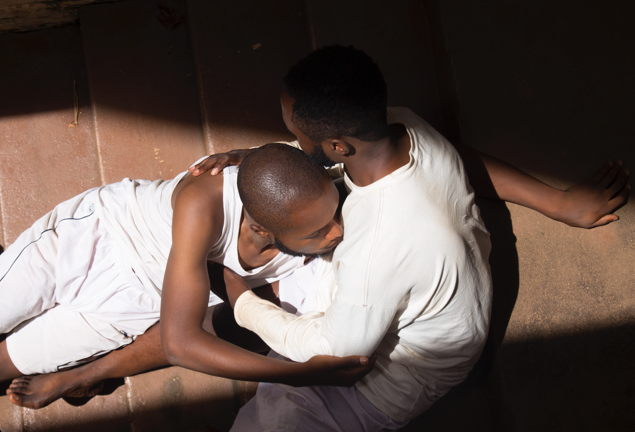 Proposal, artistic direction, dramaturgy: Soraya Lutangu Bonaventure
Musical composition, vocals, performance: Soraya Lutangu Bonaventure + Kingdom Gospel Club
Choreography and dramaturgy: Jeremy Nedd
Movement research: Tamara Alegre
Lighting design: Sel Dir Melaizi
Set design: Giulia Essyad
Technical direction, video post production : Ali-Eddine Abdelkhalek
Costumes: Bobby Kolade
Outside view: Erika Nieva Da Cunha
Sound and lighting control: Alixe Bowen
Studio engineer, Kampala: Rey Sapiens
Tour Manager: Iman Waser
Photo Credits: Ian Nnyanzi, 2021
Executive Production: Anna Ladeira and Mathias Ecoeur – Ars Longa
Production : Cie Eternal
Co-Production : Arsenic (Lausanne), Grütli (Geneva), Gessnerallee (Zürich), Dampfzentrale (Bern), Kaserne (Basel), Südpol (Luzern). A co-production within the framework of the Reso – Réseau Danse Suisse Programmers' Fund. Supported by Pro Helvetia, Swiss Arts Council.