HYENA
Cie Hyena was created in Geneva in 2019. The artist and performer Nagi Gianni is its artistic director. At the heart of his work, Nagi Gianni stages the human body as an element and as a vehicle to express the complex nature of social relations. In the form of video, installation or performance, he creates spaces of tension between his actors who operate in hybrid, often fantastical and mythical worlds, confronting existential themes such as love and the struggle for survival. 
Past
ANTILOPES
'ANTILOPES' is a piece about surviving, thriving and imagining a possible future, facing crisis, finding solace, collaborating on solutions, expanding the world outward and giving it all away. Nagi Gianni's choreographic work, by conjuring up unexpected and free assemblages as starting points for a relationship to the other, transports an emancipatory desire into a universe between laboratory and video game, where physical, emotional and social landscapes are redrawn. The white arena becomes a playground for five performers, whose bodies are returned to an embryonic state. The boundaries between curiosity and necessity are blurred, while our knowledge of these organisms and their affects is constructed in a set of efficient and laborious interactions, half friendly, half aggressive, producing a certain distance from the norm to invent a new history. 
Laura Spozio, Playwright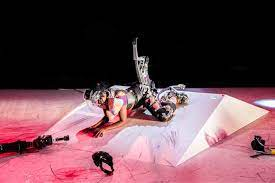 DISTRIBUTION
Concept and direction Nagi Gianni  
Choreography in collaboration with the performersEUSEXs Elie Autin, Chienne de Garde, Nagi Gianni, Florian Schlessmann, Katarzyna Sikora 
Dramaturgical accompaniment Laura Spozio 
Director's assistant Natasza Gerlach 
Outside eye Simone Aughterlony 
Sound design Chienne de Garde 
Sound engineer Stephen Band 
Lighting Jacqueline Sobiszewski 
Stage design Christophe Bozet 
Costumes Irène Schlatter, Aline Courvoisier & Nagi Gianni 
Masks Nagi Gianni 
Teaser Luca Reichenbach 
Production HYENA 
Diffusion and administration Anna Ladeira and Mathias Ecoeur – Ars Longa 
Co-production Théâtre de l'Usine, Geneva, Arsenic – Centre d'art scénique contemporain, Lausanne 
Acknowledgements Nancy Stamatopoulou, Denis Waldvogel 
With the support of the City of Geneva, Loterie Romande, Ernst Göhner Foundation, Nestlé Foundation for the Arts, Fluxum Foundation, Swiss Foundation for Performing Artists SIS.