La Division de la Joie
Founded in 2019, La Division de la Joie opens its repertoire under the artistic direction of Lola Giouse with This is not a Love Song. This first creation heralds a theater that is very worked on from a textual point of view, but which favors the poetic power of evocation and the informal over all ornament.  
Past
This is not a Love Song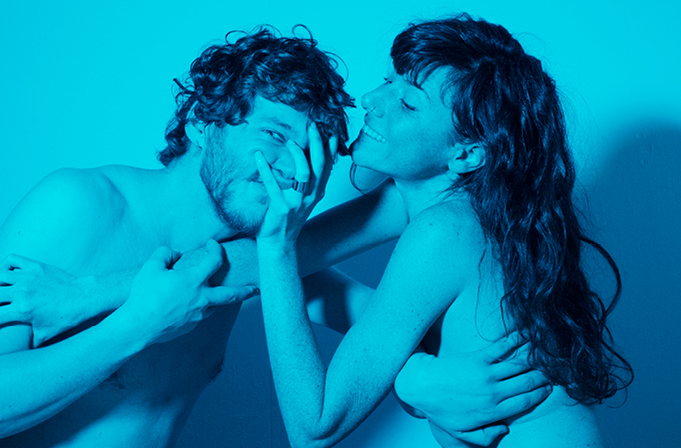 From October 6 to 13, 2020 
Saint-Gervais Theater, Geneva 
"There is no sexual relationship. It starts with this sentence of Lacan's that I don't understand. I don't understand it. OK. So we take a scene, a girl, a boy and we try. It's true, sometimes I ask myself, what can I touch from you? What do you touch of me when you penetrate me? What is this desire that I have, at times, to cross you? Something is exchanged, perhaps liquids, words. But if I say "we are close", where is the point of contact, of friction?
These are the questions that inhabit Lola Giouse, writing and directing this play where humor and tenderness take us into the exploration of desire and feelings of love.
This is not a Love Song is brought to the stage by Géraldine Dupla and Simon Hildebrand, a duo with subtle acting and astonishing sensitivity. The obvious complicity between the two actors and their crazy energy takes us into the intimacy of their first lovemaking, their modesty and their fears, in their confrontation with the paradox of a language that both binds them and separates them infinitely. 
Director _ Lola Giouse 
Acting _ Géraldine Dupla and Simon Hildebrand 
Assistant and collaboration _ Matteo Giouse 
Costumes _ Anna Van Brée 
Outside view _ Rémi Cayron, Jean-Daniel Piguet, Vivianne Pavillon, Arnaud Mathey and Delphine Rosay 
Diffusion _ Tamara Bacci 
Administration _ Anna Ladeira and Mathias Ecoeur – Le Voisin 
Support _ Loterie Romande, Fondation SIG, Fondation Engelberts, Nestlé Foundation for the Arts