Lorena Dozio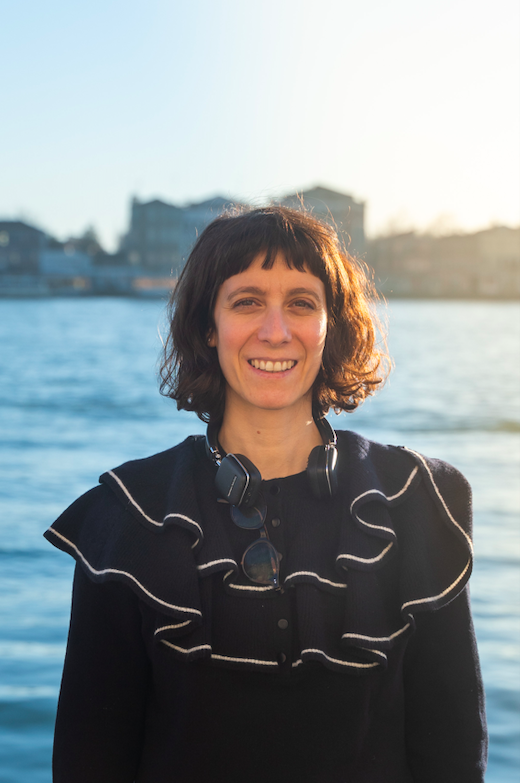 Lorena Dozio was born and raised in Switzerland (canton of Ticino). She developed her choreographic work between Switzerland (Lugano) and France (Paris). Lorena Dozio studied performance art at the University of Letters and Philosophy in Bologna before joining the Essais en danse et chorégraphie (Essays in dance and choreography) course at the Centre National de Danse Contemporaine (CNDC) in Angers under the direction of Emmanuelle Huynh. In this context, she began to create her first choreographic projects, and then collaborated with the Brazilian dancer and choreographer Fernando Cabral in various choreographic projects.
In 2008 they created the production structure Bagacera (which became Plateforme Crile) with which she created several duet pieces (Who needs reality?, Accidental project) and solo pieces (Can you move a few millimetres?, Sphenix) which were presented in Switzerland, France and Italy. Subsequently, she undertook research into the relationship between the visible and the invisible and into the transformation of matter.
In 2012, as part of the choreography training course Transforme, directed by Myriam Gourfink at the Fondation Royaumont in France, she created the solo Levante on the notion of levitation in collaboration with the composers Carlo Ciceri and Daniel Zea, with whom she founded the Association Crile, based in Lugano. Levante, co-produced by the Royaumont Foundation and the Archipel Festival in Geneva, has been presented in Switzerland and France. Artist in residence at the creation centre Mains d'OEuvres in France, from 2012 to 2014, Lorena Dozio started the creation of the solo Alibi on Daniel Zea's musical composition and technological device. This show was first performed at the Venice Dance Biennale in June 2014 as part of PrimaDanza and then repeated in various stages in Italian and French-speaking Switzerland and in France. In 2015 she created I Nauti, transforming the solo levante into a trio for dancers was performed for the first time at the Territori festival in Bellinzona.
In 2016 she created the quartet Otolithes at the LAC in Lugano, which was supported by the RESO Programmer's Fund and performed in several theatres in Switzerland (Dampf Zentral, Théâtre des Sévélins-Programme Commun, Théâtre Roxy, ADN Neuchatel, Festival de Withertur, Teatro Sociale Bellinzona, Festival Performa,..). In 2017 she created the trio Otolithes_ON AIR, a piece for outdoors in gardens in France (Festival A Domicile, Entre Cour et Jardin, Plastique Danse Flore, 2D2H), as part of the Nomadic Project Nos Lieux Commun. In December 2017, still in the framework of her residency at LAC supported by Pro Helvetia. She created the solo project Dazzle, performed by the dancer Caterina Basso at LAC Teatro Foce in Lugano.
The last two years have been dedicated to the creation of two projects: the female trio Rame, which will be created in September 2020 at the LAC in Lugano, and the sound and choreographic installation Danses Invisibles, which won the competition for dance mediation in Ticino and the support of the Canton of Ticino and RESO. This project was created at the LAC in Lugano in January 2020 and will be presented in other venues such as Les Subsistances in Lyon during Bime du Grame in April 2020.
She regularly collaborates for her creations with the composers Carlo Ciceri and Kerwin Rolland, with the lighting designer Séverine Rième and has collaborated with the dancers Aniol Busquet, Séverine Bauvais, Julie Salgues, Thibaut Le Maguer, Fernando Cabral, Clément Aubert and Caterina Basso. As a performer, she has collaborated with other choreographers and artists such as Laure Bonicel, Deborah Hay, Eric Didry, Catherine Bay, Boris Achour, Tiziana Arnaboldi, Emmanuelle Raynaut. In 2010, she was assistant to Maria Donata D'Urso for the play Strata.
She studied Vinyasa Yoga and trained in Energy Yoga at the French School with Gianna Dupont. She teaches Yoga in workshops and courses in relation to her choreographic work.
In 2016 she collaborated as a musical and choreographic performer with the Duo Links (piano and percussion) and the composer Juan Camilo Hernadez for the multi-media project Claroumbral. In 2020-21 she collaborates with the composer Fernando Garnero for the piece Amniotica Mutante.
Click here to check out Lorena Dozio's website.
Now
Comme un saut immobile 2023
"I develop my work by focusing on the question of how to make the invisible visible, the relationship between the material and the immaterial. I conceive my work as a sensory journey through thought, sound, sight and hearing. A journey that opens the imagination and I amplify all the senses to make this possible."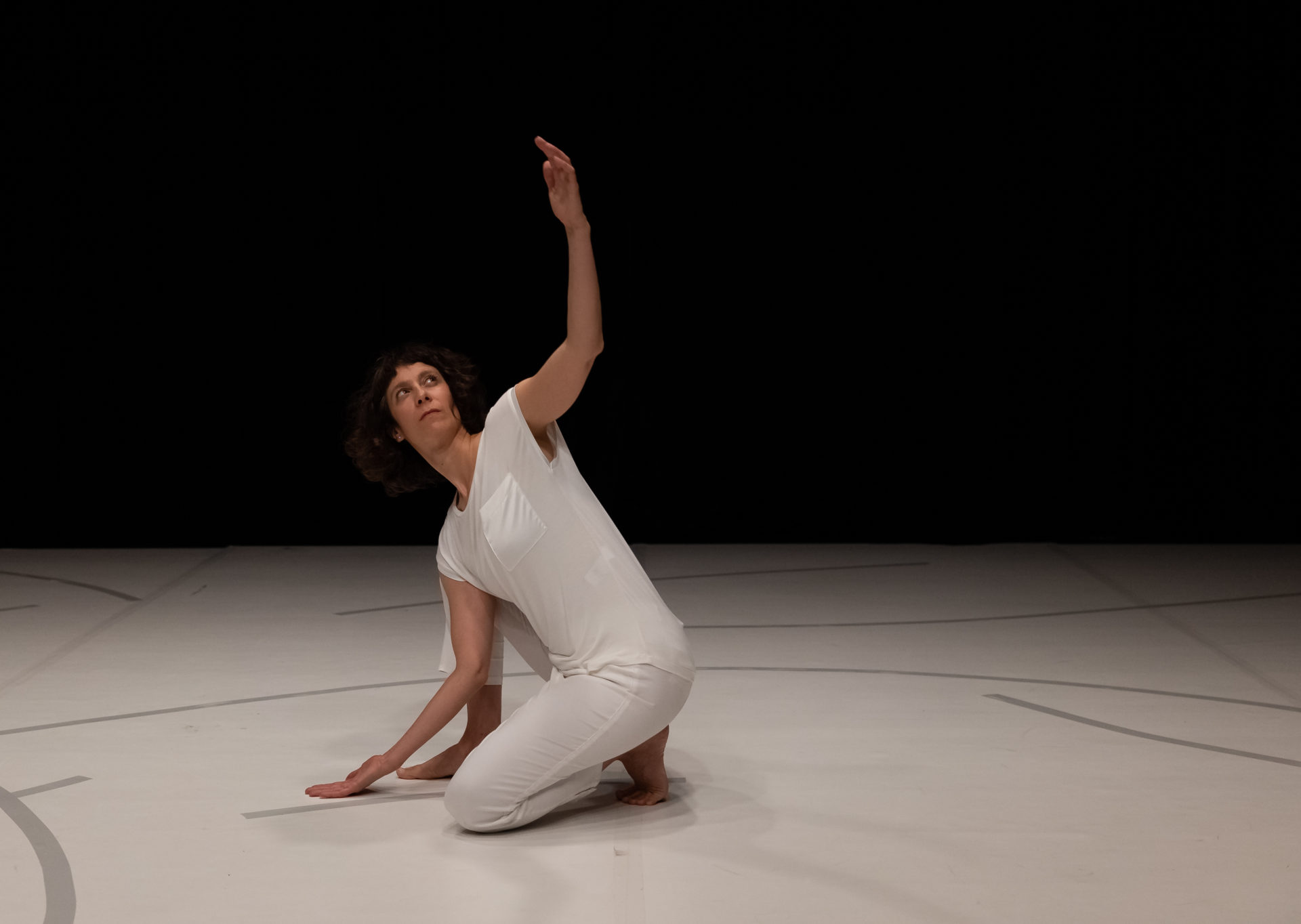 Swiss dancer and choreographer Lorena Dozio continues her quest for the invisible, but this time with words. Her new work focuses on the human voice and the relationship between body and text. In this dissociation between movement and its description, Dozio seeks a way out to make visitors and ghosts appear in a dialogue between life and death.
The choreography deals with the relationship between the environment and the limits of the body. Lorena Dozio explores the description as well as the spirit of the environment, the climate and the sensations that a landscape can evoke. As in a film sequence where the conditions change and gradually transform until the encounter with another body, immaterial but made present by the dancer's movement. Then there is the question of entering the body on stage through "extreme" experiences such as trance or apnoea. What happens in the mind and body during these physical states of altered consciousness?
Sound and sound technology are an important component of the dramaturgy as they allow to conjure presences and absences, to draw the audience into the stage space by creating a sensory immersion through quadrophony. A real-time dialogue between Lorena Dozio's body, Stéphane Bouquet's voice, Kerwin Rolland's sound and music.
Casting
conception, choreography and dance: Lorena Dozio
dramaturgy, text and voice: Stéphane Bouquet
sound and music: Kerwin Rolland
music: Carlo Ciceri, Am Flusse de Ins Wasser (Ed. Suvini Zerboni), Ensemble del Conservatorio della Svizzera italiana, Anna Piroli, voice, Francesco Bossaglia, conductor. Live recording on 11 September 2016
lighting: Séverine Rième
artistic collaboration: Kerem Gelebek, Séverine Bauvais
development and distribution: Sylvie Becquet
production and administration: Anna Ladeira, Sergio Chianca
production: Plateforme Crile
co-production with LAC Lugano Arte, CCS Paris and Cultura Micadanses
artistic residencies: LAC Lugano Arte e Cultura, Grame, Théâtre Sévelin 36, Danse Dense, Micadanses
Festival Fait d'Hiver, Dansomètre, Centre Culturel Suisse de Paris, Palazzo Trevisan degli Ulivi – Venezia
with the support of : Swiss Arts Council Pro Helvetia, Cantone Ticino – Fondo Swisslos, City of Lugano, Percento Culturale Migros, Spedidam, Adam, New Echo System – Palazzo Trevisan degli Ulivi – Pro Helvetia.
For Carlo