Meta
The Meta company, founded in 2011, carries the choreographic projects of Flora Gaudin joined by Gennaro Lauro.
In search of a sensitive, multiple and singular body, their approaches have in common a taste for metamorphosis, for immersive proposals where the body is thought of as a living material endowed with its own language.
Beyond words, Flora often works at the edge of other fields such as music, literature, visual arts and cinema. Franco-Swiss, she develops her work on these two countries.
Now
Electric Screwdriver In Promotion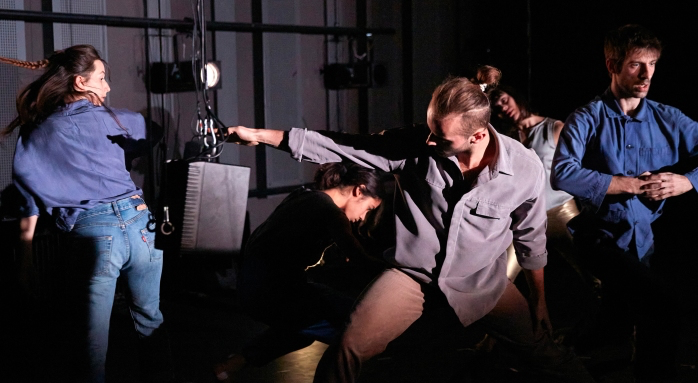 A "little people" moved by rules, sneaks in, clashes in the heart of an orchestra of loudspeakers. In an effusion of sounds, the paths of the bodies are as precise as they are constrained. Interlacing and vanishing lines, dancers and music exhaust the form and it is perhaps at the moment when it dies that one begins to imagine. Visseuse is the electric promotion of an interior repopulation. 
"The music and the bodies evoke the machines that govern them or that they have become, body tool as much as body worker. The gestures adjust themselves to each other. The symbiotic music and dance combine in alienation, yet gradually it is a form of opening that we witness. The vibratory space expands, something opens up, starts to live and palpitate. Lines of flight emerge and the space of animality becomes an interior place."  Emmanuelle Mougne. Choreography / Flora GaudinMusical composition / Paul Ramage and Flora GaudinMusical realization / Paul RamageDance / Marie Albert, Eve Bouchelot, Gennaro Lauro, Mathilde Rance and Hugues RondepierreLighting / Alizé BarnoudAdministration and diffusion / Mathias Ecoeur & Anna Ladeira – Ars LongaProduction / compagnie metaCoproduction / Théâtre L'Oriental, Vevey (CH), Instants libres FR), Association MetaBisse (CH)Support / Fondation Abbaye de Royaumont, Dansomètre-Vevey, L'échangeur – CDCN Hauts-de-France (within the framework of " Studio Libre "), CN-D, Ville de Gennevilliers, La Curie, Fondation Nestlé pour l'Art,Fondation Ernst Göhner 
Past presentations :
Festival Les Chorégraphiques, at Théâtre l'Oriental-Vevey (CH) from January 13 to 17, 2021.
 Abbaye de Royaumont / Fenêtre sur cour(s) Saturday August 31, 2019