Romain Beltrão Teule
Born in Paris, he grew up in Marseille. His mother being Brazilian, Romain has spoken Portuguese and French since childhood. He studied design and performance art at ISAT (Institut Supérieur des Arts de Toulouse) and ESBANM (Ecole Supérieure des Beaux-Arts de Nantes Métropole).
In 2013, Romain moved to Lisbon to follow the PEPCC choreographic research training offered by Forum Dança. In this city, he fell in love with a British man and learned English. From that moment on, Romain decided to take on oral expression and language as the central axis of his research. He created "Elisabeth" (2014), a play in Portuguese, English and French.
In 2016, seeking to immerse himself in an unknown language, Romain travelled to Japan and created the piece "Légende" (2017), a conference dealing with his fictional research on the language of birds. Legend was presented at Be Festival Birmingham in 2017 and is part of the Best of Be Festival tour in the UK and Spain between 2018 and 2019.
Now
DOBRA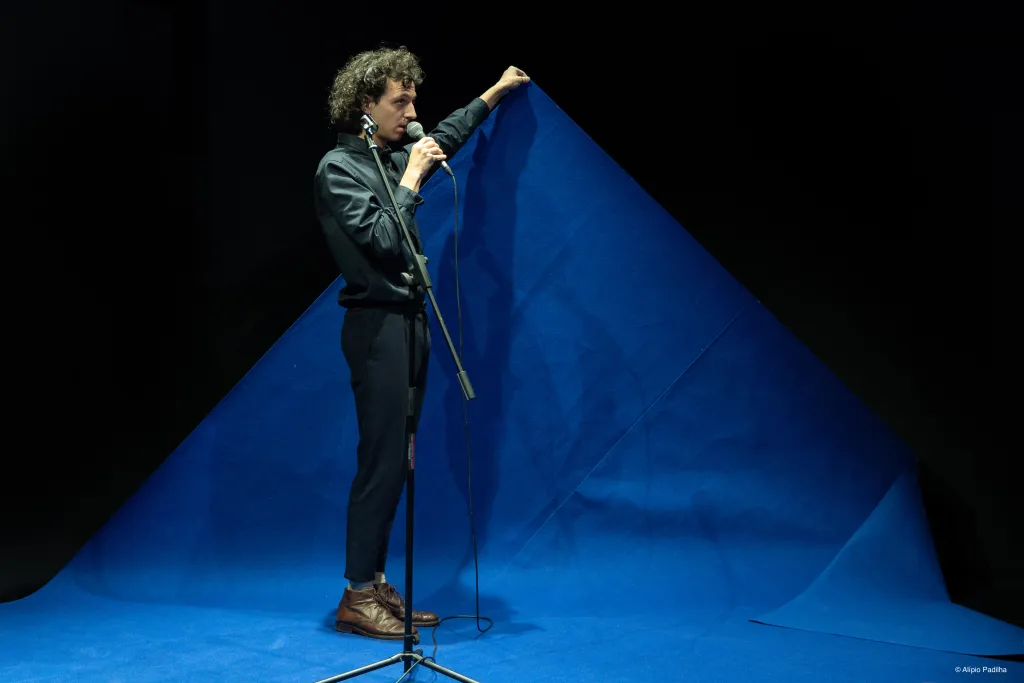 Dobra is a conference-performance project that begins with the dissection of a word: Dobrar. Dobrar is a Portuguese word that can be translated into French as doubling, folding.  To double someone's voice (in a film, in a series, in an interview). To double an actress, an actor (by substituting his presence by his double). Fold a folding table (or any object that folds). Folding a sheet of paper, several times, until you get a mini sculpture, an origami. And there is my double, my doppelgänger a person in the world similar to me.  Dobra is a lecture in which the performer begins by recounting a journey in which he had the sensation of being pursued by his evil double, his doppelgänger, at the same time as he watched French films dubbed into Japanese and fell in love with an unemployed furniture designer who made his living working in action films as a stand-in for a famous actor. And the speaker duplicates himself. The words are duplicated. What has been told is transformed into dance, stories are translated into gestures in space. Dobra is a piece that subtly confronts the spectator with the possibilities of manipulation of something. From translation to duplication, Dobra highlights the possibilities of falsifying anything that is considered reality.