Simone Truong
Simone Truong has Chinese-Vietnamese origins and was born in 1983 in Solothurn, Switzerland. Since her Bachelor in choreography from the ArtEZ HKA in Arnhem Simone Truong is based in Zurich, where her work is regularly co-produced by the Gessnerallee. Her pieces have been showed in several festivals within and outside of Switzerland. Between 2008 and 2010 she worked together with her sister Monika Truong and Elaine Ho on the longterm-project «Overseas», which has been developed together with Chinese artists and shown in Beijing and Zurich. Between 2012 and 2014 Truong worked on question-remake-series consisting out of two performance and one book. The piece «(To) Come and See», a collaboration with the four choreographers Eilit Marom, Anna Massoni, Elpida Orfanidou and Adina Secretan has premiered in January 2016 and is since than on tour. In the end of 2017 the collective has extended the practice into a triptych that includes workshops and a durational performance with the participants. Her latest work «In the middle of Nowhere – your absence fills the space» has premiered in October 2019 in the Gessnerallee. As a performer she has worked amongst others with Jérôme Bel, Cie Branstätter/Gerbes, Philippe Saire and Liquid Loft/Chris Harring. Furthermore Truong works as an assistant and performer for Jérôme Bel, in the piece «Disabled Theater» and «Gala». Truong is recipient of the Danceweb scholarship and the Premio award in 2008. She has received the recognition prize from the province of Solothurn in 2010 and from the city of Zurich in 2011. Since December 2014 Truong is the artistic director of the festival «TanzPlan Ost».
Past
(To) come and see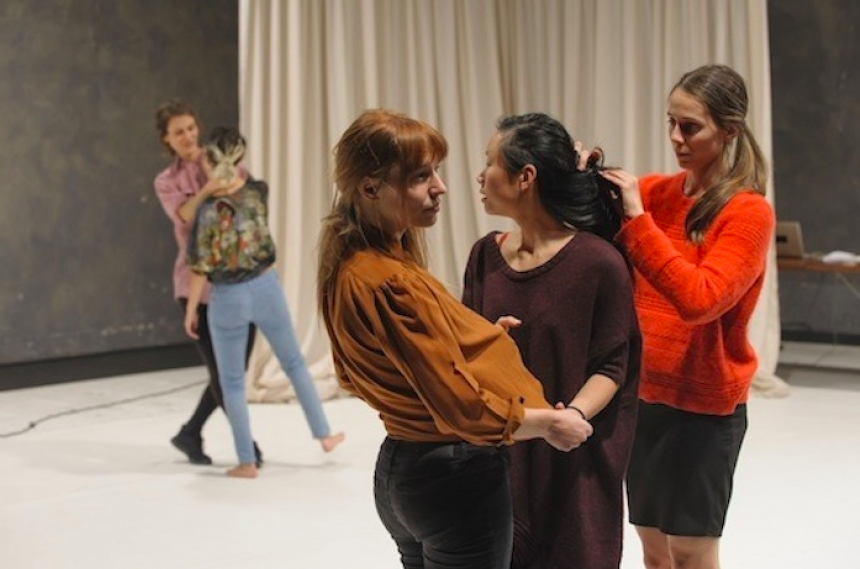 To come and see : in the popular English language, this expression evokes in a very graphic way the moment of ecstasy in sexual pleasure. (To) Come and See is now the title of Simone Truong's latest piece. She co-signed it with four other women: Eilit Marom, Anna Massoni, Elpida Orfanidou, Adina Secretan. This completely shared signature indicates how this piece stems from a long time of life, fully involving them all together. We mean: much more than a schedule of rehearsals.
A title evocative of desire. A cast of five women gathered on a stage. However, (To) Come and See cannot be assimilated to a simply feminist play; nor to a lesbian situation. If the thematic of the enjoyment animates the subject, that will be tested without passing by nudity. Diffused and troubled, isn't this principle of desire the one that also activates the spectators' looks when they go towards the bodies of performers on stage ?
More than a show, (To) Come and See offers itself as a subtly erotic moment, strangely rambling, sometimes facetious. This is done through enigmatic micro-actions, largely improvised, willingly disconcerting. The spectator can believe to have approached on a distant island. There to feel welcomed on the edges of a group intimacy. Full of invention and determination, an unusual colony of women experiments with the least masculine piece imaginable.
Concept Simone Truong Choreography, Performance Anna Massoni, Eilit Marom, Elpida Orfanidou, Adina Secretan, Simone Truong Light, Stage Roger Studer Masks Dana Hesse, Katharina Kroll Dramaturgy Igor Dobricic Outside Eye Jessica Huber Production management Anke Hoffmann Assistance Samira Bösch Photo Flurin Bertschinger
A production of the association Overseas in coproduction with the Gessnerallee Zurich, the Rencontres Chorégraphiques Internationales de Seine-St. Denis and the Théâtre Sévelin 36 Lausanne
Partners City of Zurich Kultur, Canton Zurich Fachstelle Kultur, Pro Helvetia – The Swiss Arts Council, Ernst-Göhner-Stiftung, Fondation Nestlé pour l'Art, Canton Solothurn Amt für Kultur, Stanley Thomas Johnson Stiftung, Migros-Kulturprozent, Sophie und Karl Binding Stiftung
Residencies Théâtre Sévelin 36 Lausanne, Dansateliers Rotterdam, Isadora and Raymond Duncan Dance Research Center Athen, Luna Park Athen, Lieues Lyon, Wuzhen Theatre Shanghai, Minshen Art Museum Shanghai
11-13 june 2017 – Rencontres Chorégraphiques Internationales de Seine-Saint-Denis 
23 march 2017 – Maison de la danse Machol Shalem, Jérusalem 
22 march 2017 – Théâtre de Haïfa 
20 march 2017 – Festival March Hare, Centre chorégraphique Kelim, Tel Aviv 
20-25 february 2017 – Supercell Festival, Brisbane